Welcome to YOUR community!
Most of you have been told:
You need to follow the rules
Your ideas are too crazy
You can't say the word spiritual in business
To be accepted for who you are, you have to be quiet
You are selfish
You are too wild, aggressive, bold, powerful
You can't have great relationships, and be financially successful
You probably  also;
Sacrificed a lot to get to where you are right now
Have ideas that can radically alter people's lives
Invested a lot of time, work, and money into your craft
Take 100% responsibility for your life
You most often live (or have lived) in two worlds.  The competitive one of your business and the secret one of your spirituality.
Guess what?  You are not alone!
You are a Radical Change Agent!
You understand that in order to change anything in the world, you need to change your world first.
These are different times we are living in now, where what was so difficult in the past is becoming easier.  Everything is much faster.  Many of your ideas are being accepted and you need an effective strategy to get it out there.
And this time….you will not sacrifice your spirit to get there.
Radical literally means going to the root.  It means going to the root of who you are, what is holding you back, and what is making you shine.
Radical Change happens when you are clear on who you are and living the life you want while having the business you desire.
It's time to combine both spirituality and money in a way that is truly radical, and gets results!
To learn more on how you can be spiritual, make money, and change the world while changing yours first, enter your information on the right to get my complimentary gift!
It's time to be amazing! 
Latest Articles From The Blog
Hello everyone.  Happy Valentine's Day!  Sending you all much love.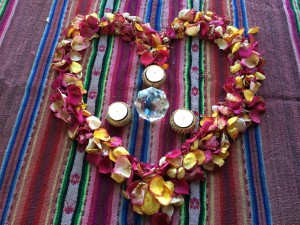 In the last week, I have been speaking with people about being comfortable knowing things and not knowing how you know it.  It's just a sign that you are tapped into a deeper wisdom, and it shows with the work you do with your clients and how you interact with the world.
The other day, I was reading a book and came upon the phrase, "seeing from the eyes of your heart".  I have been saying this for years, and I understand it at a deep cellular level.  Whenever I would talk about it, people would light up because they loved the expression and what it meant.
So, imagine my surprise and delight when I saw it in a book about a topic that is dear to my heart.  Shamanic wisdom that is heart based.
My message to all of you is to let your wisdom flow, open up, don't question, trust.  We all are connected.  Expand even more into your true self.
So….for those of you who want to know a little bit more about seeing through the eyes of  your heart, I will be sharing more on my blog, and also here.
What does seeing with the eyes of your heart mean?
The basic idea is that so often we get caught in our heads, feeling pain and challenge because of someone else.  Most often, we have seen their inner nature, their essence, their heart.  Or we have felt it.  What is possible, and what their gifts are.  It's awesome to be able to do that.  And at the same time, you need to let go of the results.  The other person has the option to live their life in their ways.  They might not want to become that version that you see with your heart.  Then it is time for deep compassion.  Everyone goes on this path and does what they are called to do.  We need to honor that.
That is not only seeing through the eyes of the heart, but loving from that heart based space.
Now all of this is relevant in your personal relationships, with yourself, and also with others.  Those you coach, mentor, interact with.  Those you call on the phone for strategy calls.  Those you meet who might be clients or not.  See the best in them, and give them the power to decide if they want to rise to that or  not.   And just be love.